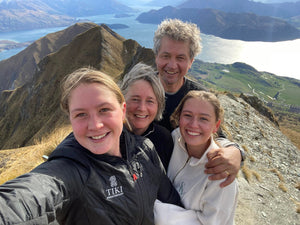 Pictured from left: Abby, Sue, Royce and Tess McKean
Our Story
We knew pretty early on that we wanted to name our wine label TIKI. This name was created in honour of Royce's great-great-great grandfather, Ngāti Uenuku Chieftain, Tiki Tere Mihi. But there's a bit more to our story that took place before the name was born...
In the late nineties, with our two young daughters in tow, we spent 3 years living and working as ski bums in the Craigieburn Range of New Zealand, good years and great memories but little in the way of money.
We dreamed of earning a grubstake to create something of our own in NZ, so we decided to try our luck overseas and packed up our bags and headed to Europe for the next 5 years. We spent this time working and travelling through Europe and North America while saving our dollars to start something when we went home.
When our girls started school in the U.K. we really started missing home, we realised we wanted to give them the same amazing upbringing that we both had growing up in New Zealand. Eventually the pull of home got too strong and we decided our next adventure would be to pack in the jobs, pack up the kids and move back to New Zealand.
We settled in the beautiful seaside village of Sumner, Christchurch not far from some of Royce's family. Moving home was pretty amazing! Having kids meant that we could really appreciate the slower pace of life, easy access to the outdoors, and that feeling of freedom you get from living a long way away from the rest of the world, at the beach, in a beautiful wee village.
We were looking for something to get stuck into, and after a year at home we found an old 325 hectare sheep farm in Waipara, North Canterbury that we fell in love with that was perfectly suited to growing grapes. The years of working overseas helped to prepare us for understanding the financial requirements for setting up and running a vineyard but that still didn't make it easy to get the project off the ground - we were green behind the ears, with limited funds and no track record to speak of in grapes or wine. Not the ideal way to kick off a long term investment like a vineyard, but we decided this would be our next adventure and we dove into it, boots and all.
We knew employing amazing people to help us out would be key, and we set about getting a great team together which we now call the Tiki whānau (family).
We started small by planting only 60 hectares of the new vineyard in Sauvignon Blanc and Pinot Gris varieties. Small we say, but this is still more than 130,000 plants that needed to be planted and watered and trained in quite a limited amount of time. It was thousands of posts and miles of irrigation line that needed to be fitted, checked, run and maintained.
We learnt a lot that first year - what to do and what not to do - and our passion just grew stronger. We had a very busy year ahead preparing the land for the next stage, planting the rest of the vineyard all 260 hectares of it. When you see a fully developed vineyard you can sometimes forget how much work goes into preparing the soil, putting in the posts, digging wells and planting the vines and then the years of tending those vines before you receive the satisfaction of harvesting your first grapes.
By the end of 2006 our Waiata Vineyard in Waipara was fully planted and we had found some more vineyard land in the unplanted Upper Wairau Valley in Marlborough that we thought showed real promise. We decided to expand into the Marlborough region and over the next few years we kept busy developing the new sites. In 2009 we finally got to taste the fruits of our labour with the release of our first vintage Tiki Single Vineyard Sauvignon Blanc.
This wine won Gold medals and numerous accolades which was an amazing result from such young vines and confirmed our earlier thinking over the quality potential of these vineyards.
Our Marlborough vineyards are now sold and today Tiki has one of the largest vineyards in the North Canterbury Wine Region of New Zealand with 320 hectares planted in vines. From there, we continue to produce award winning wines that Tiki wine lovers are enjoying all over the world.
As a company we are an indigenous NZ Māori wine producer that is committed to sustainable winegrowing. We care for our vines under the guiding Māori principles of Kaitiakitanga: guardianship, protection and preservation of the earth.
As well as Tiki honouring Royce's great-great-great grandfather, the name also represents a hand carved Māori treasure which, when gifted bestows good fortune and love on others. We craft our wines with this same spirit in mind. Tiki started from very humble beginnings and we certainly have never forgotten how lucky we are to do what we do in such a beautiful place. That sense of adventure and feeling of freedom that we get from living in New Zealand has never left us and is at the very heart of Tiki and the bespoke wines that we produce.
Royce and Sue McKean
Founders of Tiki Wine & Vineyards